"Blood isn't blue or gray, Miss Phinney, It's all one color."
I've been excited for Mercy Street since I first saw that it was coming out--Confederates and Unions working together? Hospitals? Pretty clothes? Sign me up! It premiered last night, and I was extremely impressed.
First of all, I'm pretty sure this show won't run in the same circles as, say, Downton Abbey and Poldark. It's grittier (blood! blood everywhere!) and American. I know, you didn't think that Masterpiece Theater was allowed to show American programming, did you? Apparently that's a thing.
Mercy Street opens with a young woman named Mary Phinney (played by Mary Elizabeth Winstead, a woman I have never heard of. But her name sounds like she actually time-traveled from 1860!). She wants to be a nurse in a respectable Northern hospital, but her outspoken opinions on slavery earn her a position in a far less amiable place. A hotel has been set up to house both Confederate and Union soldiers--whomever happens to be dumped there. Naturally, this opens the door for all sorts of prejudices and lessons to be learned about serving the wounded with a clear head, no matter how different they are from you.
I sense a loveeee storyyyy!
(Plus, that dress is beautiful.)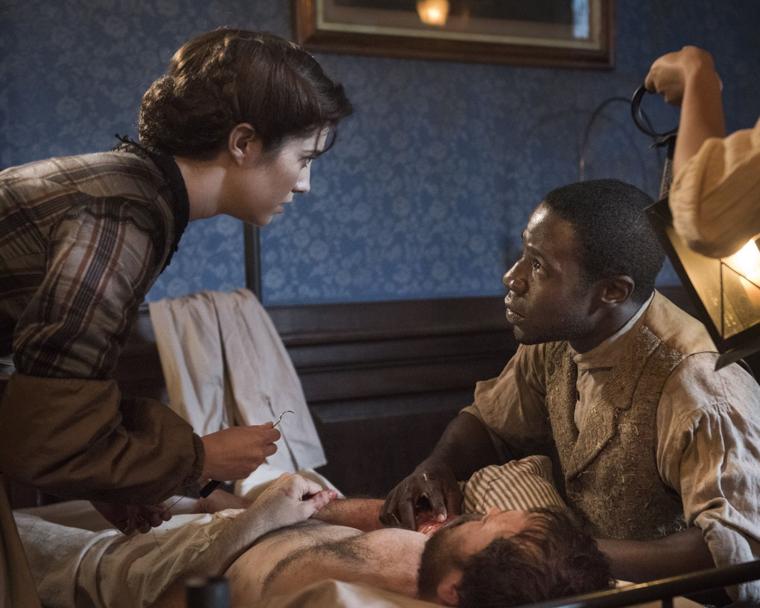 Stitching binds people together. (Hahahaha that was a pun.)
Mary Phinney and Dr. Jedidiah Foster.
He looks like he's been through a lot, but his waistcoat is pretty, so that makes up for it.

The characters impressed me right off. For me, a drama is mostly reliant on its characters--if I don't like those, there's really no point in watching it. Miss Phinney is headstrong and a pure Northerner. She comes off as very knowledgeable, especially in the face of the sheltered Southern Belle, Emma, but later realizes that she's rather naive in her own right. Dr. Foster is less concerned with race, social class, and national division and is more focused on simply taking care of patients. He's into new-fangled medical procedures, like injecting morphine to take away the effects of "soldier's heart" (physical manifestations of PTSD).
Emma watches on as morphine makes a play. (I couldn't find a good full-length shot, but LOOK AT THAT DRESS!)
Emma, the daughter of the rich Southern fa
mily that owns the hotel/hospital, starts out her role as the fresh-faced girl and, I expect, will turn into a dedicated nurse. "There comes a time when a woman must put childish things behind her," says Miss Phinney to Emma, who takes it to heart. I foresee a lot of good character development for her, as well as a strong friendship with Miss Phinney. Oh yeah, and more fabulous clothes. The Civil War era has never been my favorite as far as fashion goes, but if the rest of the fancy dresses are anything like this white puffed pastry of perfection, I'll be very pleased.
Samuel Diggs and Aurelia Johnson. I sense another loveeee storyyyy! Though probably a sadder one.
There are also several interesting African-American characters, some of whom are slaves and others servants. Samuel Diggs has already proved himself to know a thing or two about medicine, and it'll be really interesting to see how far he gets to take it. He's already saved the life of one man, though he didn't get to take the credit.
It's only the first episode and we've already seen heartbreak, chemistry between the main characters, and a lot of missing limbs. There are six episodes in this season, so there's still five more hours of fun to be had! No word yet on whether there's going to be a second season or if this is more of a one-shot miniseries. Either way, I feel like I'm going to enjoy it immensely.
Mercy Street shows on PBS Sunday nights at 10/9c after Downton Abbey.